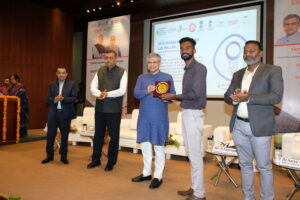 Ahmedabad: Union Minister of Railways, Communication and Electronics & Information Technology, Shri Ashwini Vaishnaw with Shri S. J. Haider, Principal Secretary, Higher and Technical Education, Govt. of Gujarat and M. Nagarajan, IAS, Commissioner, Higher Education, Govt. of Gujarat interacted with promising startups and students from universities and incubation centres at Entrepreneurship Development Institute of India (EDII). Shri Ashwini Vaishaw congratulated Gujarat state for emerging as the best performer state in developing a startup ecosystem for budding entrepreneurs.
EDII with the support of Education Department, Government of Gujarat organised an interactive session with Shri Ashwini Vaishnaw where he appreciated the state government's initiative towards startups and said, "The government has launched various schemes like 'Digital India', 'Made in India', 'Make in India', 'Standup in India' and many such inclusive policies that are boosting the startup ecosystem. States play the largest role in advancing the startup system, and Gujarat has done so by putting a strong emphasis on developing successful startups, enhancing corporate governance, expanding operations, addressing funding gaps, and establishing a strong brand."
Senior officials from industry associations/government, academia, startups, and other dignitaries from Gujarat participated in the event for networking opportunity and shared their entrepreneurial endeavours and experiences. Highlighting the role of entrepreneurship, Dr. Sunil Shukla said, "It is a matter of pride for all of us that Gujarat has emerged as the best performing state, in instituting a strong startup ecosystem for budding innovators and entrepreneurs. Our esteemed Prime Minister, Shri Narendra Modi launched the Digital India Week 2022 on June 4, 2022 in Gandhinagar with the theme 'Catalyzing New India's Techade', so, I believe, this is perhaps the most appropriate time to celebrate the spirit of entrepreneurship. India is burgeoning with opportunities and it is time that the young minds harness opportunities. EDII is doing its bit towards incubating viable ideas, training youths and handholding them to ensure that they emerge successful as new-age entrepreneurs."
Speaking at the event, Shri S. J. Haider, said, "It is heartening to see the gennext embracing entrepreneurship and becoming employment generators. The Gujarat Government's Education department aims to boost the startups of the state and generate employment within the country by instituting incubators in the state to assist budding startups. We are confident that we can propel the startup ecosystem in Gujarat to newer heights."
EDII also organised a startup exhibition showcasing the ideas and innovative work done by the students, alumni and startups incubated at its Technology Business Incubator, Centre for Advancing and Launching Enterprises (CrAdLE). The participants discussed opportunities for financial assistance from government schemes, pitched their ideas, and learnt about entrepreneurship.
The esteemed dignitaries felicitated 5 emerging startups from various domains namely, D3S Healthcare Technologies, Freedom Wheels Enterprise, EV India, IOTA Design & Innovations Lab Pvt Ltd and Neerain.
Profiles of the startups felicitated
1. IOTA Design & Innovations Lab Pvt. Ltd. (Biotech)
Iota Design & Innovations Lab Pvt. Ltd. has been founded with the vision to design and develop innovative products in the sectors of healthcare /pharmaceuticals, environment, and renewable energy for a sustainable future. IOTA is working on blood micro sampling device and Multiscale Scaffold for Skin Tissue with a vision to develop affordable and accessible healthcare solutions for everyone.
NeeRain Pvt. Ltd. (Rainwater Harvesting)
NeeRain is GoG backed, GoI-approved startup incubated at i-Hub & CrAdLE, that secures water for common-man; With 2000+ installations, NeeRain saved 30 crore litres of water at 100+ habitats across India, Asia, Africa & America in two years. NeeRain aims to enable and empower our habitats with easy, effective, and economical products to harvest Rainwater from their premises.
D3S Healthcare Technologies (Healthcare | Medical Device)
D3S Healthcare Technologies is passionate about good breast cancer screening products, Services & consulting, exceptional service, and positive team spirit. The motto is to screen a billion people to save a million lives. BR-Scan Light device is a one of the new health and wellbeing products for women. It is one of the unique inventions for the detection of breast cancer and certain breast abnormalities at home.
FREEDOM WHEELS ENTERPRISES (Independent Mobility Solution for 'divyang')
India's Most Cost-Effective Motorized Wheelchair including Warranty, Parts, and Service Support all over India for Divyang / Locomotor Disabled / Person with Disability / People with Physical Challenges, a group of differently-abled citizens who need care and rehabilitation.
EV India [EV (Automotive)]
EV India is an Influencer-based (EV Owners), Community-Driven, Social-Commerce Platform. Combined with a physical marketplace model that offers prospective EV buyers end-to-end and unparalleled research and buying experience. We also work towards providing an uncompromised EV ownership experience to our Community of EV owners.
Neerain is proud to republish this article for spreading awareness about situation of water, for our stakeholders. Credit whatsoever goes to the Author.
This article is published by: –
https://indiaeducationdiary.in/ashwini-vaishnaw-interacted-with-promising-startups-and-students-from-universities-and-incubation-centres-at
We would like to spread this for the benefit of fellow Indians. 
Publish On: Jul 6, 2022