There are about 24 lakh water sources in India. This conclusion has come out in the country's first water body census. These water sources include both rain and groundwater-rechargeable water sources.
This enumeration done by the Union Ministry of Jal Shakti (Water Resources) has geo-tagging all the water sources and linked all the ponds, tanks, chakbandhs and water reservoirs to each other on the basis of shadow images and latitude and longitude.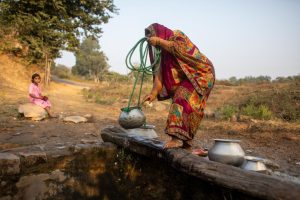 Photo courtesy: down to earth
As per the survey, 83 per cent of the water sources are used for fisheries, irrigation, groundwater-recharge and drinking water. It has also been clarified in this report that contrary to popular belief, encroachment has been found on only 1.6 percent of the reservoirs in this census.
There is no data available on the status of the catchment area of ​​these reservoirs to help determine how much groundwater is being recharged. But it is certain that this calculation is an important initiative in these present times of climate crisis.
We are well aware that the rains are getting more and more uncertain than ever before. Monsoon in India ( who is also considered as our real Finance Minister ) has become more severe now.
It simply means that it is raining in a few days and that too very fast and smoky. That's why it is very important for us that wherever and however much it rains, we collect each and every drop of it.
From this point of view also, this water body census needs to increase the number of water sources and use well-planned methods to renovate the existing reservoirs, so that they can increase the ground water level by storing maximum rain water. These water reserves will be useful for us during the long season of no rain or drought.
Inevitably, we are bound to get caught in a vicious cycle of devastating drought every year and catastrophic floods every alternate year. But the truth is that this vicious cycle is now a "new normal" for us and it will have disastrous effects on the hydrology of the rivers.
There is only one way to reduce this magnitude of flood and drought, the passion to build lakhs of new reservoirs and connect them together to store rain water. Only by realizing this scheme, water in addition to flood can be stored to deal with the calamity of drought.
The future of our water depends on our judicious use of water. This is the lesson we need to learn from the interesting events of ancient Roma (Rome) and Edo (the city that became Tokyo).
The Romans used to build huge aqueducts, which stretched for ten kilometers each, to transport water to their settlements. Even today these reservoirs are a ubiquitous symbol of water management in their society. 
Experts have admired the Romans because they showed great skill in planning their water supply, but these aqueducts point not to their skill, but to the great Romans' environmental mismanagement. Rome was built on the banks of the Tiber River. So this city did not need any other aqueduct.
But since Rome's waste was discharged directly into the Tiber, the river was polluted and water had to be brought from far away. Sources of water were few, so the nobility used the practice of slavery to exploit those sources.
On the other hand, the traditional Japanese never throw their garbage in the rivers. They allowed those wastes to decompose naturally and used them as fertilizer in the fields. Besides rivers, there was no shortage of other sources of water in Edo. Their water supply system was free from any kind of social discrimination.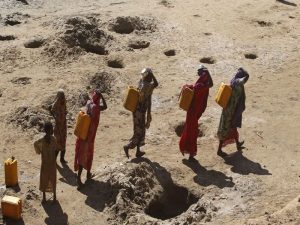 Photo courtesy:scroll.in
Meanwhile, the good news is that our water literacy has increased as compared to earlier. Over the past decades, the country has learned important lessons and developed a new approach to water management. Till the late 1980s, water management was generally confined to irrigation projects.
Dams and canals were mainly built during this period to store and supply water over long distances. But it was only then that the country faced a major famine in the late eighties and it became clear that simply increasing the amount of water through large projects was not enough.
At the same time the Center for Science and Environment (CSE) also published its report "Dying Wisdom". The report mentioned the traditional techniques used for rainwater harvesting in India's ecologically diverse regions.
The slogan of the report was – Rain falls not in one place, but in different places and its need is also in different places, so whenever and wherever it rains, its water needs to be saved then and there.
Today, many programs have been created with the aim of creating and reviving water sources. The Mahatma Gandhi National Rural Employment Guarantee Scheme is already making a significant contribution in the construction of a large number of reservoirs.
Apart from this, the government has just announced Mission Amrit Sarovar, under which there is a plan to develop and revive 75 water sources in each district of the country to mark the completion of 75 years of India's independence.   
Despite the interest in decentralizing water management, it is sure that not enough is being done to secure its future. The real reason for this is that there is no uniformity in our bureaucracy in policy-making regarding land and water.
The maintenance of the ponds is the responsibility of one agency, while the drainage and the catchment area are the responsibility of two different agencies. These rules need to be changed to conserve water.
Water management can be done more effectively by expanding the control of local communities over water sources and for this strengthening the roots of democracy and devolution of rights is necessary.  
But more important than all these things is to reduce the use of water in terms of quantity and spend every drop of it carefully. For this, there is a need to bring changes in the methods of irrigation, household appliances and food habits, so that we can choose our food crops economically from the water point of view.
It is high time, in the coming decade, we rewrite the water story in India by drawing lessons from our best practices. It's very simple. For this we have to make this work the only major goal of our life.
We have to remember that water is related to our livelihood. It is related to our food and nutrition. It is related to the future of man.
Neerain is proud to republish this blog for spreading awareness about situation of water, for our stake holders. Credit whatsoever goes to the Author.
This blog is published by: –
https://www.downtoearth.org.in/hindistory/water/water-conservation/efforts-to-save-water-will-have-to-be-intensified-89000
We would like to spread this for the benefit of fellow Indians.
Author: Sunita Narain
Publish On: 27 April 2023