Water, water everywhere and not a drop to drink' – this predicament of the sailors in Samuel Taylor Coleridge's famous poem is a portent to our collective futures; one with little to no access to safe water. In 2019, Chennai, a city that receives twice London's average annual rainfall at 1,400 mm, had to meet its water needs by trucking in 10 million liters of water a day. The 2018 drinking water crisis in 'Queen of Hills' Shimla made international headlines when policemen were deployed on the ground to manage water distribution.  
The NITI Aayog's 2018 Composite Water Management Index (CWMI) depicts an unsettling picture of macro-water availability in India – despite being home to 17% of the world's population, it has only 4% of the world's freshwater resources. The total water demand in India is projected to increase by 22% and 32% in 2025 and 2050 respectively and, by 2050, 85% of this demand is expected to come from industrial and domestic sectors alone. Among the regions, the south and the northwest are expected to face the worst in the next two years. About two lakh people die every year due to inadequate water, sanitation, and hygiene and ~820 million Indians living in twelve river basins across the country have per capita water availability close to or lower than 1000m3, the official threshold for water scarcity as per the Falkenmark Index.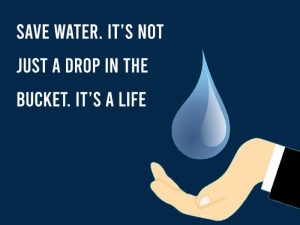 Photo Courtesy: Statustown
To address this looming water crisis and ensure water security, it is imperative to devise a holistic urban water management system that can help balance biodiversity by protecting and restoring the health of waterways and wetlands, mitigate flood risk and damage, provide for sustainable and resilient communities, promote sustainable development goals (SDGs), and address the needs of the last person in the queue.  
Some of the solutions available to this end include: 
Rejuvenation / conservation of water bodies: Replenishing and restoring the health of natural water bodies and wetlands is the single-most effective way of securing a safe source of water. Cities, like Bengaluru, have 210 lakes, covering 3,622 acres with a capacity of 35,000 million ft3. Long-term efforts such as Namami Gange are also bearing fruits. However, for more localized solutions, it is important that traditional water storage structures such as vavs and baolis are rejuvenated and maintained. 

Rainwater harvesting: India receives bountiful rains – last Monsoon, India received 925 mm of rainfall in just four months. A part of the immense potential to create sources of water through rainwater harvesting is being realized – as on February 2, 2023, more than 1.19 million water conservation and rainwater harvesting structures have been constructed across India.
Photo Courtesy: iStock
Government initiatives: In the past few years, the progress towards providing piped water supply and last-mile delivery of water has been stupendous. The one-of-its-kind Jal Jeevan Mission supplied tap water to 10.64 crore – 55% – households in rural India until November 2022 and more than 15 lakh women were trained for testing water quality through field test kits. 

Digital interventions: Technologies such as artificial intelligence, machine learning, and Internet of Things (IoT) can help in flood prediction, rain forecasting, detecting water leakages, treating wastewater and harvesting rainwater. AI tools are capable of analyzing the data from recycling plants and suggesting ways to reduce energy consumption up to 30%, contributing to overall sustainable practices.

Stemming groundwater depletion: Since agriculture utilizes the majority of groundwater, the World Bank has been supporting innovative projects targeted at the agrarian communities. These include Atal Bhujal Yojana, the world's largest community-led groundwater management program and Paani Bachao, Paisa Kamao in Punjab that resulted in water savings between 6 and 25% without any adverse effect on the yield. With states like West Bengal, Jharkhand, Bihar, Assam, and Manipur among others reporting high levels of arsenic in the groundwater, efforts for decontamination would also have to become part of the plan. 
There is no doubt that the problem of water scarcity is one of environment, population, governance, health, and well-being. Having to walk long distances and stand in long lines every day, 163 million people across the country continue to live without clean water close to their homes and ~0.2 million people die every year due to inadequate water, sanitation, and hygiene. The population concentration is disproportionately high in Indian cities, 30 of which, according to the World Wide Fund for Nature (WWF), staring at a grave water risk.
Given the seriousness and complexity of the problem, policymakers must therefore employ systems thinking – an approach that can create an ecosystem for innovation that develops a big-picture perspective, focuses on opportunities in a problem, and fosters adaptation amid rapidly-evolving environments. There is no doubt that greater involvement of communities can heavily alter the outcome of urban water management solutions. At the same time, funding such programs can meet a roadblock, especially in the wake of the devastating impacts of the pandemic. Therefore, fostering public-private partnerships (PPP) that can work by engaging communities, funders, and corporate stakeholders and creating awareness will play a critical role in achieving the goal ahead.
Neerain is proud to republish this blog for spreading awareness about the situation of water, for our stakeholders. Credit whatsoever goes to the Author.
This blog is published by: –
https://timesofindia.indiatimes.com/blogs/voices/making-india-water-secure-solutions-for-the-future/
We would like to spread this for the benefit of fellow Indians.
Author: Dr. Nidhi Pundhir
Publish On: March 28, 2023