Water scarcity is a major issue in India, with the majority of the population having insufficient access to safe and potable water. The problem is exacerbated by a rapidly growing population, unplanned urbanization, and droughts caused by climate change. As it is one of our basic necessities, it becomes essential to conserve this precious resource. With the real estate sector being one of India's largest consumers of water, it is critical to accelerate and implement water conservation measures in this sector to ensure sustainable development.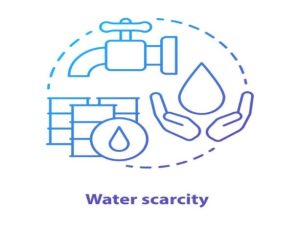 Photo courtesy: Istock
Water Crisis: The Current Scenario
Quenching the thirst of India's 18% of the world's population, while using only 4% of its water resources makes India one of the world's most water-stressed countries. As per a report by NITI Aayog, many Indians experience high to extreme water stress. This difficulty is aggravated by India's dependence on the monsoon, which is becoming more unpredictable for its water needs. Even as the country experiences more floods and droughts, climate change is likely to make this pressure on water resources worse.
The water crisis is not limited to rural areas, as urban areas are also experiencing severe water scarcity. The major reason for this is the ever-increasing population. Taking an example of one of the largest metropolises, Mumbai alone needs over 4200 million litres of water per day but manages to distribute about 3850 million litres of water per day. And interestingly, as per the newspaper reports, this demand is likely to go up to 6424 million litres per day by 2041. How will this large metropolis be able to source such huge quantities of water? Currently, the city of Mumbai relies on lakes and dams, but what comes next? Urbanisation has resulted in the devastation of natural water bodies such as lakes, rivers, and ponds, further aggravating the crisis.
Role of Real Estate in Mitigating the Water Crisis
Real estate, which is a crucial component of any urban foundation, can help mitigate the problem by implementing innovative water-saving and recycling solutions. The developer community is taking effective measures to contribute to this cause. 
Earlier, a lot of water wastage happened owing to the usage of drinking water in construction activities, but this is not the case anymore. Due to stricter government policies and to contribute to this natural resource from becoming extinct, real estate developers started taking efforts to use non-drinking water. However, this has now become a practice where developers rely on underground water resources or non-potable water and have water recycling plants on site to reduce this wastage.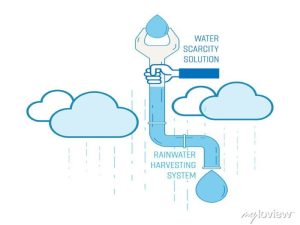 Photo courtesy: Myloview
Additionally, it is now mandatory for developers to install rainwater harvesting system and grey water recycling systems that can help reuse wastewater for non-potable purposes such as cleaning and flushing. Along with developers, individual property owners, too, are using water-efficient systems and fixtures, such as low-flow toilets, showerheads, and faucets, and water-saving appliances, such as washing machines and dishwashers. This would not only reduce water consumption but also save money on water bills. 
Adding to these efforts, many developers today strive for green certification and rating systems such as LEED (Leadership in Energy and Environmental Design) and Energy Star. These provide a framework for developers to implement sustainable practices in real estate. These certification programs can incentivize the adoption of water conservation practices and make real estate more environmentally friendly.
Additionally, real estate developers can promote sustainable landscaping techniques that use less water. Native plants that need less water for irrigation, permeable surfaces that let water seep into the ground, and mulch that keeps moisture in the soil are all components of sustainable landscaping. Furthermore, sustainable landscaping encourages biodiversity, which increases the site's ecological value.
While the government is taking efforts to carry out all the important measures to conserve water, a lot of education and awareness is still needed. Along with real estate developers, individual property owners, occupants, and tenants should also contribute to significantly reduce water consumption.
The real estate industry has a significant impact on water consumption, and conservation and implementing sustainable practices can help preserve our planet's most precious resource. By incorporating efficient water management systems, the real estate industry can contribute to water conservation and help create a more sustainable future. On this World Water Day, let us commit to protecting our planet's water resources and working towards a better future. Let's accelerate this process and be the change that we want to see!
Neerain is proud to republish this blog for spreading awareness about situation of water, for our stake holders. Credit whatsoever goes to the Author.
This blog is published by: –
https://timesofindia.indiatimes.com/blogs/voices/water-conservation-in-real-estate-a-necessity-for-indias-sustainable-future/
We would like to spread this for the benefit of fellow Indians.
Author: Nirav Dalal
Publish On: April 9, 2023