As more cities sink, rethinking how we use groundwater can ease pressure on precious aquifers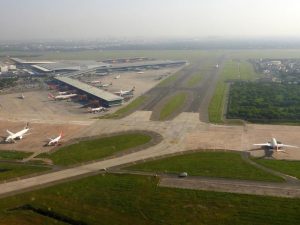 The land around Delhi's Indira Gandhi International Airport has sunk dramatically over the years. Photo Courtesy: Rehman Abubakr
When you come into land at Delhi's Indira Gandhi International Airport it may not be obvious from the sky that the land in the surrounding area has been sinking more than 17 centimetres a year.
The main reason for this subsidence is the excessive pumping of groundwater. 
As the water is removed from underground aquifers, the soil above begins to compact and sink. This can happen gradually, over years, or suddenly, in just hours. In either case, the effects can be long-lasting and expensive to repair.
India is ranked number one for excessive groundwater usage.  Groundwater is a vital resource for our planet's survival. It sustains agriculture, provides drinking water, and supports ecosystems. 
However, overuse of groundwater is leading to a new problem: Land subsidence, which not only causes damage to infrastructure and buildings but threatens the livelihoods of millions of people around the world.
In India, the northern Gangetic plains are exploited more than anywhere else. The impact of disappearing groundwater is accelerating changes in the shape of the land surface. But residents and authorities are fighting back, changing years of water usage habits to stop the land from sinking beneath them.
Photo Courtesy: Pinterest
A recent study in Nature reported alluvial aquifers in India in the Delhi-National Capital Region have sunk and continue to sink at a substantial rate. Around Kapashera, near the international airport, land subsided by 11 cm per year during 2014-2016.
That increased to more than 17 cm per year in the two years that followed.
On the vulnerability of Delhi to subsidence, Ryan Smith, assistant professor at Missouri University of Science and Technology said: "Aquifers that are pressurized and have lots of clay are most prone to subsidence." 
The soil in Delhi is mainly thick alluvium, which is clay-rich and thus vulnerable. It can cause significant damage to buildings, bridges, pipelines, railways, and canals.
Even minor subsidence in densely populated areas can put lives at risk. In cases where the rate of sinking is differential, It might lead to the weakening of foundations or develop cracks in the buildings.
A fifth of the world's population lives in areas that are at risk of subsidence, according to recent reports.  In some cities, the problem is so severe that buildings have sunk by several meters.
The consequences can be devastating, as entire communities are left vulnerable to flooding, infrastructure damage, and water scarcity.
There's been land subsidence in various parts of the world where exploitation of groundwater has been high. 
One of the most prominent cases is in Mexico City, where buildings have been tilting due to land sinking. 
In Indonesia, over the last decade, the capital Jakarta has sunk more than 2.5 meters. The problem is so grave the government is planning to shift the capital. 
Countries like Iran and China too, have witnessed prominent land subsidence in the last few decades.
It is possible to reduce land subsidence if groundwater replacement is equivalent to what's taken out, or by using water sustainably.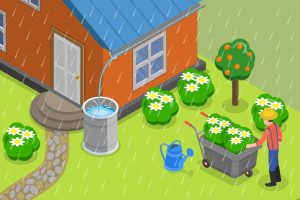 Photo Courtesy: Adobe Stock
Rainwater harvesting is an effective way to boost groundwater, especially in dry cities, which receive low rainfall and have a lot of alluvial soil, which is prone to subsidence due to its softness.
In Delhi's Dwarka region, residents and the government had been working on a plan to supply piped water to the area by 2016. Heavy fines were imposed on buildings still using borewells and residents began harvesting rainwater to increase the water table in the area.  
Two large lakes were cleaned up and rejuvenated which helped increase groundwater levels.
The government also decided that only treated sewage and surface water should be used to water public parks and grounds.
Town planner Vikas Kanojia said steps like reviving old reservoirs and harvesting rainwater helped Dwarka reduce its reliance on groundwater and reverse the trend of land subsidence. "This can be a model for other areas in Delhi and India", he said.
Dwarka's example shows that it's possible to deal with the issue of subsidence, however in more arid regions this process is difficult. 
Iran, for instance, is home to some of the fastest sinking valleys in the world, but uncontrolled mining continues. Per capita water supplies have plummeted more than 65 percent in recent decades and it could be worse in the future. 
The government has invested heavily in technologies such as desalination. "Technology can help, but what we need is a long-term program to conserve water resources involving farmers, industries, and local communities and at the moment there isn't one," said Mahdi Motagh, a senior scientist from GFZ Potsdam.
The issue of subsidence is becoming more serious and widespread, affecting the lives of millions of people around the world. However, there are solutions, as demonstrated by the efforts of residents and the government in the Dwarka region of Delhi. 
Rainwater harvesting, reviving old reservoirs, and using treated sewage and surface water can help to reduce reliance on groundwater and reverse land subsidence. But what's more important is to address this issue through proper tracking and monitoring and long-term programs involving farmers, industries, and local communities.
This blog is published by: –
https://www.downtoearth.org.in/blog/urbanisation/if-we-re-smart-about-water-we-can-stop-our-cities-sinking-89417
We would like to spread this for the benefit of fellow Indians.
Author:

Shagun Garg
Publish On: 18 May 2023