India is one of the most vulnerable countries to climate change impacts. Due to combined effect of climate challenges and inadequate urban management, cities are frequently facing climate hazards such as urban flooding, heat waves, cyclonic storms, severe and prolonged dry spells, water scarcity, etc. It is pertinent to mention here that the COP 26 UN Climate Change Conference, took place during October – November 2021 in Glasgow, UK, India committed to net-zero greenhouse gas emission by 2070. By 2020, countries submitted their plans for climate action known as nationally determined contributes (NDCs). Urban sector has to play a crucial role in achieving these commitments. Without involving cities India's climate goals will not be achieved. This paper first explains server terms and strategies in climate change. Second section briefly describes strategy in Germany which is relevant to urban India. This is followed by actions taken by Indian Government on urban climate change and several local urban initiatives. Finally, it makes recommendations for future action.
Understanding Climate Change
Climate change (CC) refers to the increasing changes in the measures of climate over a long period of time – including precipitation, temperature, and wind patterns. Global warming refers to the rise in global temperatures due mainly to the increasing concentrations of greenhouse gases in the atmosphere, it is part of CC. The Agreement is international treaty on CC adopted by 196 Parties, December 2015. Its goal is to limit global warming to well below2, preferably to 1.5 degrees Celsius, compared to pre-industrial levels.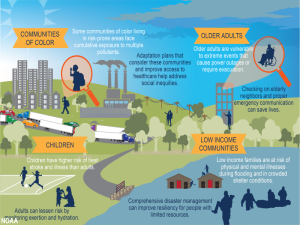 Photo courtesy: National Oceanic and Atmospheric Administration
Adaptation and Mitigation strategies for climate change are two sides of same coin. Mitigation means making the impacts of climate change less server by preventing or reducing the emission of greenhouse gases (GHG) into the atmosphere. Mitigation strategies include retrofitting building to make them more energy efficient; adopting renewable energy sources like solar, wind and small hydro; electric vehicles, and biofuels. Mitigation is short – to medium term measure and can be expensive. Adaptation involves taking appropriate measures to prevent the effects of climate change. Adaptation – adapting to life in a changing climate and involves long term strategies. Adaptation examples development of drought – resistant crops, Lifestyle for Environment (LIFE) Mission proposed by India. Etc.
Institutionalisation of climate change Germany
As an industrialised nation, Germany bears a particularly large responsibility of reducing emission. The Federal Climate Protection Act passed on 15 November 2019, which was amended in 2021. It prescribes legally binding climate targets with annually decreasing greenhouse gas budgets for the sectors of transport, energy, industry, buildings, agriculture and waste managements in Germany. In 2008, the National Climate Initiative (NCI) was established as the most import national source of funding for energy efficiency and climate protection activities by municipalities, companies, educational institutions and consumers from resources of the energy and climate Change fund (EKF) and the federal budget. A consortium of independent research institutes regularly evaluates the NCL and its funding programmes.
Climate protection managers are of fundamental imports for coordinated and well-anchored climate protection activities in municipalities and contribute significantly to implementing learning processes and making them visible in society. The focus of NCI funding is therefore an attractive start-up funding for personnel to strategically anchor climate protection in municipalities. Another measure to actively integrate climate protection into municipal is the introduction of climate checks.
Presently, Independent Director (Nom – Executive )GIFT City Gujarat, Former Director of school of planning and Architecture (SPA) New Delhi and National Institute of Urban Affairs (NIUA)

Finya Eichhorast and Corinna Altenburg. 2022. "Institutionalisation of climate change in Germany". German Institut for Urban Affairs/ Deutsches Institut fur Urbanistik gGmbH.
In addition to the actual project funding, the Federal Environment Ministry has set up a Central Knowledge Hub, based at the German Institute of Urban Affairs (DIFU), acts as a central hub for knowledge transfer and is point of contract for all issues relating to municipal climate protection. While Germany has made early efforts and advancements especially in the field of renewable energy, the challenges to achieve the current climate neutrality goal until 2045 are enormous.
Urban India Response
The Ministry of Housing and Urban Affairs (MoHUA) has stated in the revised National Mission on Sustainable Habitat (NMSH 2021) that enabling climate actions intend to address the overarching framework to facilitate adoption and implementation of the sector-wise climate action strategies. These include strategies pertaining to Urban Governance, Capacity Building, Data,Technology & Innovation and Financing mechanism for the mission.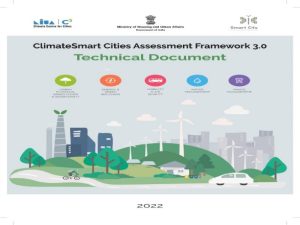 Photo courtesy: Climate centre for cities
MoHUA has undertaken a number of climate sensitive initiatives. It has in 2019, initiated the "Climate Smart Cities Assessment Framework" (CSCAF) as step towards holistic, climate-responsive development. The objective of the CSCAF is to provide a clear roadmap for the cities and, in effect, urban India as a whole towards combating Climate Change (mitigation and adaptation) while planning their actions, including investments. It covers five sectors namely, Urban Planning and green Cover, Energy and Green Building, Mobility and Air Quality, Water Management and Waste Management. The second round of assessment for this framework for 126 Cities was completed in 2021. A "Climate Alliance "has been set up in 2020, which brings together 80 organisations with diverse skills, strengths and resources required for planned Climate action. The CSCAF indictors have been included in the revised National Mission on Sustainable Habitat (NMSH) document that was released in 2021 and will help in making climate action mandatory for all cities in India. Climate Centre for Cities (C-cube) has been established with the National Institute of Urban Affairs (NIUA) in 2020.
Local Urban Initiatives
Many cities have taken several sustainable initiatives such as promoting public transport, walking and non-motorised transport, developing Miyawaki forests, introducing energy saving LED Street light, solar panels, electric autos, decentralised collection and treatment of solid waste, and nature-based treatment of sewage. It is interesting to note that many Cities have prepared city climate actions plans. These include Rajkot, Surat, Coimbatore, Kochi, Udaipur etc. Maharashtra State Government has given a mandate to 45 large cities to prepare city climate action plans. Rajkot and Udaipur Climate Resilient City Actions Plans have been approved by their General Boards. Various mitigation and adaptation interventions have been identified for Rajkot based on GHG emission inventory and urban system analysis in line with existing city planning and future projects.
The Brihanmumbai Municipal Corporation (BMC) has prepared a Mumbai Climate Action Plan (MCAP) in a bid to tackle climate challenges. MCAP included climate resilience with mitigated and adaptation strategies by focusing on six area sustainable waste management, urban greening and biodiversity, urban flooding and water resource management, building energy efficiency, air quality, and sustainable mobility.
With reference to climate change related financing, the Ghaziabad Nagar Nigam (GNN) has led the way by issuing green bonds in April 2021. The issuance of green bonds in India are governed under relevant SEBI regulations in 2017 SEBI and funds raised through issuance of the debt securities are to be utilised for projects which fall under renewable and sustainable energy, clean transportation, sustainable water and waste management and climate change adaptation.
Way Forward
Although urban India has taken several steps to integrate urban climate change in urban sector, more efforts are required to mainstream in the urban sector in India at national, state and city level. Capacity building efforts under urban climate change should be further intensified and also support private sector. Additionally, there is need to integrate climate change issues in the Urban and Regional Development Plan Formulation (URDPFI), Guidelines, GIS based master Plan Guidelines, Model Municipal Law 2003 and model Building Bye Laws. There is need to provide specific funding for urban climate change projects and this will require justification of urban climate change funding. Besides, provide incentives for urban climate change actions. Local research and academic institutions should be encouraged to work with cities and state on urban climate change. Innovations have to be through start-ups and urban labs. Moreover, a research study on impact of updated climate targets on projected urbanization pattern should be supported by the Government.
Neerain is proud to republish this blog for spreading awareness about situation of water, for our stake holders. Credit whatsoever goes to the Author.
This blog is published by: –
SOCLEEN Magazine – February 2023
Author: Chetan Vaidya
Published on: February, 2023