MUMBAI: Citizens from several areas in Mumbai have been complaining about the lack of water supply in their localities. Some have even said that they have not been receiving water at all or are getting only a trickle, and are having to depend on water tankers and bottled water for drinking.
Starting from March 31 onwards, the BMC had announced a 15%water cut all across Mumbai for the next 30 days. This was due to the tunnel carrying water to Mumbai getting damaged in Thane. The tunnel was damaging during the digging of a borewell subsequently causing a massive leakage. Again last week, the city's water main was damaged at Kopri in Thane aggravating the situation. The BMC is estimated to spend Rs 13 crore for the repairs, which it said it would recover from the builder whose workers damaged the tunnel in Wagale Estate.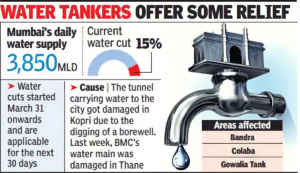 Renu Kapoor, a Colaba resident said that there has not been a drop of water in their society leaving them with no option but depend on water tankers. "Our supply hours are in the evenings daily and since the last two days we have not been getting any water. The situation has completely caught us unaware and we are resorting to using bottled water for drinking purposes," said Kapoor.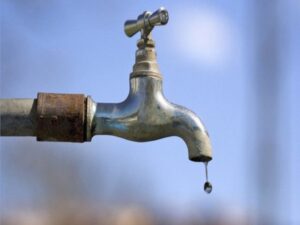 Photo courtesy: Salahuddin
Ajay Multani, another Colaba resident said that initially as there was reserve water in their tank they could manage, however, when water did not come for the second day the situation got worse. "On Sunday, also we got water for hardly ten minutes. The problem is across all buildings in Colaba," said Multani.
Former Bandra corporator Asif Zakaria said that the problem was in their locality too. "While a 15% cut has been officially announced but its way beyond it with over 50% reduction in water supply. Fague ends are getting nowhere at all and the water tankers that the BMC is providing is clearly insufficient," said Zakaria.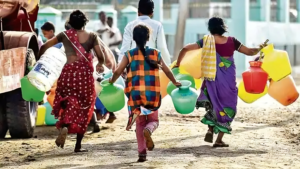 Photo courtesy: Hindustan Time
Residents in areas like Gowalia Tank area also complained off no water supply. "We visited the hydraulic department of the BMC however they could not commit till when the issue would be resolved," said a resident.
When contacted, additional municipal commissioner P Velrasu said on Monday a meeting was conducted to assess the situation. "There were some augmentation measures done. The issue should settle down Tuesday night and Wednesday," he said.
Neerain is proud to republish this article for spreading awareness about situation of water, for our stakeholders. Credit whatsoever goes to the Author.
This article is published by: –
https://timesofindia.indiatimes.com/city/mumbai/its-a-15-water-cut-but-many-areas-in-mumbai-dry-or-down-to-a-trickle/articleshow/99252346.cms?from=mdr
We would like to spread this for the benefit of fellow Indians.
Author: Richa Pinto
Publish On: April 04, 2023.