Three out of ten people worldwide do not have access to clean and safe drinking water. The condition of African countries is the worst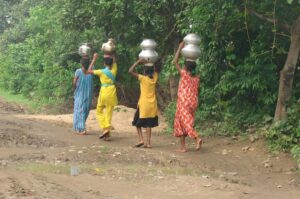 Photo courtesy: Salahuddin
More than 200 million people around the world are deprived of basic amenities like clean water and sanitation. Several such worrying aspects have been highlighted in the United Nations World Water Development Report "Leaving No One Behind", to be released in Geneva, Switzerland on March 19.
Clean and safe drinking water and sanitation were given the status of a human right in a resolution adopted by the United Nations General Assembly in 2010. In 2015, sanitation was also recognized as a special human right. These rights oblige states to work towards ensuring universal access to water without discrimination. The Sustainable Development Goals also call for providing access to water and sanitation for all by 2030.
Work has been done in this direction in the last 15 years but this goal remains out of reach worldwide. In the year 2015, three out of ten (210 crore) people did not have access to clean and safe drinking water. At the same time, six out of ten people (450 crore) were deprived of facilities related to sanitation. UNESCO Director-General Audrey Azulay believes that the right to water is important to live a life of dignity, but millions of people are still deprived of it.
According to Gilbert F. Hongbo, president of Yun Water and the International Fund for Agricultural Development, "The figures speak for themselves. The report states that if the degradation of the natural environment and the pressure on water resources continue like this, by 2050, 45 percent of the world's gross domestic product and 40 percent of food grains will be at risk. Poor and deprived sections will be badly affected by this.
Poor condition of African people
In terms of clean drinking water, the condition of the people of Africa is the most pathetic. Half of the world's people who drink unsafe water live in Africa. Only 24 percent of people in sub-Saharan Africa have access to safe drinking water and only 28 percent have access to sanitation facilities. Half of people in sub-Saharan Africa drink water from unsafe sources, and women and girls are responsible for providing water. It takes them more than 30 minutes to bring water every time. People here are suffering from health problems and lack of education due to drinking unsafe water.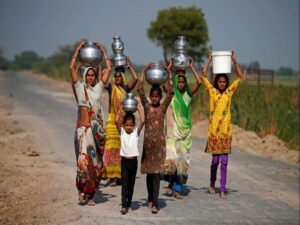 Photo courtesy: Bloomberg.com
Big crisis in front of refugees
Access to clean water and sanitation is a major challenge for refugees and internally displaced people around the world. In 2017, 6.85 crore people had to leave their homes. Usually, the average of the displaced is 2.53 crores. Now people are getting displaced in large numbers due to natural calamities. This displacement is double that of the 1970s. The number of displaced people is expected to increase in the future due to climate change. The report shows that there is a dire need for investment on water supply and sanitation.
Neerain is proud to republish this article for spreading awareness about situation of water, for our stakeholders. Credit whatsoever goes to the Author.
This article is published by: –
https://www.downtoearth.org.in/hindistory/water/water-crisis/world-is-facing-serious-crisis-of-drinking-water-63578
We would like to spread this for the benefit of fellow Indians.
Author: Bhagirath Srivas
Publish On: March 15, 2019.