Nearly a quarter of the world's population lives in these 17 countries, which are facing extreme stress due to water scarcity.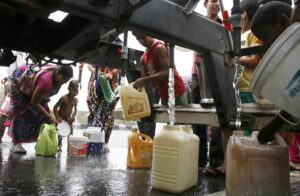 Photo: Vikas Choudhary
According to the latest report released by the World Resources Institute (WRI)  , almost one-fourth of the world's population is facing a severe water crisis. The 17 major countries facing severe water crisis are Qatar, Israel, Lebanon, Iran, Jordan, Libya, Kuwait, Saudi Arabia, Eritrea, UAE, San Marino, Bahrain, India, Pakistan, Turkmenistan, Oman and Botswana, in their order According to WRI, these 17 countries facing extreme water scarcity may soon face 'Day Zero' like situation.
Significantly, the word 'Day Zero', denoting a serious water crisis, became popular since the year 2018 when the city of Cape Town in South Africa was going through the worst water crisis in its history.
While the Middle East and North Africa are home to 12 of the most stressed countries, India, which ranks 13th in terms of water stress, has a population more than three times that of 16 other countries combined. In these 17 countries facing severe water scarcity, agriculture, industry and municipalities use an average of 80 percent of available surface and groundwater each year. In such a situation, if this balance of demand and supply of water deteriorates due to climate change or any other reason, then it can have serious consequences and a drought-like situation may arise.
Water crisis is getting deeper, no one will remain untouched
According to Betsy Otto, Global Director of Water Affairs at WRI, "Water matters to everyone". Presently we are facing global water crisis. Our population and economy are increasing and the need and demand for water is also increasing continuously. But climate change, water wastage and pollution pose a major threat to its supply."
The WRI report has expressed serious concern about water scarcity and believes that water scarcity can lead to many social and political problems. While it could increase tensions and conflicts around the world, affect food supplies, it could pose serious risks to water-dependent industries such as mining and manufacturing.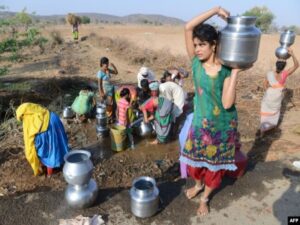 Photo courtesy: VOA
Many cities of India are also facing severe water crisis.
Last month, Chennai also witnessed 'Day Zero'-like situation when taps ran dry, schools had to be closed due to water shortage. The business of restaurants and hotels had stopped. Police had to be deployed to protect the water sources. At the same time, water was supplied through trains and tankers from far away areas. This situation is not confined to Chennai only, many cities in the country like Delhi, Mumbai, Hyderabad, Bhopal are suffering from the serious problem of water crisis today.
Recently, in the report released by NITI Aayog,  it has also been accepted that the water crisis is deepening in many cities of India, and it is expected to take a more formidable form in the coming times. According to the report, where by 2030, water will not be available for about 40 percent of the country's population. At the same time, by 2020, more than 10 crore people in the country will be forced to face a severe water crisis.
It is worth noting that the water level is rapidly falling down in many states of the country, if concrete steps are not taken in this regard, then this situation of water crisis can take an even more frightening form. On one hand, many states are facing a drought-like situation, on the other hand, the precious water during the monsoon and subsequent rains flows through the rivers and falls into the sea, and gets wasted. If the emphasis is laid on rainwater conservation, this wasted water can reduce our dependence on groundwater and can also play an important role in the development of agriculture.
In October 2002, the then Prime Minister of the country Atal Bihari Vajpayee had also planned to link important rivers to deal with the problem of flood and drought. Prime Minister Narendra Modi had also given his approval to the plan to link 60 rivers of the country in his first term. It is expected that soon we will be able to see this scheme taking shape and in future the problem of flood and drought will be controlled effectively and the problem of water crisis in the country will end forever.
Neerain is proud to republish this article for spreading awareness about situation of water, for our stake holders. Credit whatsoever goes to the Author.
This article is published by: –
https://www.downtoearth.org.in/hindistory/water/water-crisis/17-countries-faces-severe-water-crisis-says-a-report-66057
We would like to spread this for the benefit of fellow Indians.
Author:  Lalit Maurya
Publish On: August 6, 2019.