Rooftop rainwater harvesting  :  Village homes in the state of Rajasthan, India.
Happiness through security of water
When water for drinking and cooking is not available in the right quality, living day to day life becomes challenging. Life of people in this remote village of state of Rajasthan is in real trouble as whatever ground water is available through borewell is highly contaminated with fluoride and other elements.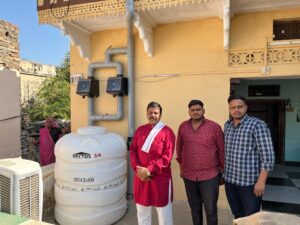 Rainwater is pure form of water from the sky, we tried to make 25+ such families water secure by harvesting rainwater from their respective roofs storing that water in tanks through Neerain rooftop rainwater harvesting filters. The project was successfully completed within two weeks.  Main components were as below :
NeeRain rooftop rainwater filters.
First flush device
Tanks for storage of rainwater
Plumbing material
Each home project was within range of Rs. 15,000 to 25,000 depending upon the roof size. With this amount rainwater for years together shall be secured for 25 families. Please check this video spreading smile of these lovely families
Safe driving water serves life's most precious requirement of maintaining health and remain happy.
Smile on the faces of girls, boys, women and entire family is a great asset that we could build.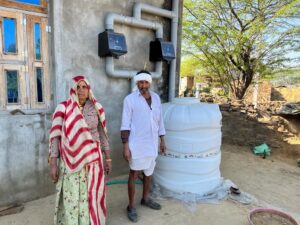 Rooftop rainwater harvesting in developing countries can be a life savour, foundation of development and catalyst of healthy life for people.  This entire process of rainwater harvesting from rooftop is made extremely simple, easy and economical with new age innovative Neerain rooftop rainwater filters…www.neerain.com has further details..NeeRain is young startup from India working hard to transform our Planet from water scarce to water surplus habitat.
नीर [ Neer ] means water in Sanskrit and Rain is water. Our name NeeRain defines purpose and goal of our existence. NeeRain Rooftop Rainwater Filters enable and empower our common men with easy, effective and economical Rooftop Rainwater Harvesting to harvest Rainwater from their rooftop to borewell or tank as water resource.
Our patent granted rooftop rainwater filters (technological innovations) are so easy for a common man to implement with minimum cost, negligible labour and no recurring cost. It's our endeavour to offer Do it yourself, plug and play Rooftop Rainwater filters for a common man to adopt it and live a water secure life.
NeeRain is Government Of Gujarat backed, Government Of India approved startup at i-Hub & CrAdLE, secures water for common-man; With 2000+ installations, NeeRain saved 30 crore litres water at 100+ habitats across India, Asia, Africa & America in two years.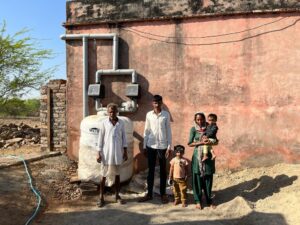 NeeRain has embarked journey on securing water for our common-man. With more than 3000 successful installations, we could save 95 crore litres of water at 150+ decentralised habitats across India, Asia, Africa and America. Our Patent granted innovation is NeeRain rooftop rainwater harvesting filter that saves 60,000 litres of water every year.
NeeRain rooftop rainwater filter is first-ever no water loss rainwater filter. NeeRain rainwater filter is efficient and effective as it has two stages of filtration with micro filtration up to 200 microns, to remove large, small and micro impurities that come along with rainwater. Neerain helps harvest rainwater without human intervention. It can be mounted on a wall, on the down take pipe so that rainwater can be easily captured by gravitational force. NeeRain doesn't require any electricity. It doesn't have any moving parts. It doesn't need any consumables to be replaced. It doesn't require maintenance. Rainwater harvesting can be monitored online by the unique see-through lid. NeeRain harvests rainwater without breaking the flow of water by only preventing impurities. There is a separate outlet for impurities and a separate outlet for clean water. NeeRain can be fixed easily within 2 hours by a semi-skilled plumber.
Neerain rooftop rainwater filter has won CII's national Award for Excellence in water management 2022 for the innovative water saving product category on 29 Sep 2022.
NeeRain is featured on Doordarshan DD India, DD News and DD Girnar for common man centric work. NeeRain is inducted on board by Ministry of Housing and Urban Development (GOI) under Amrut 2.0 water innovation initiative.
Check out details about this on www.neerain.com