Sarayakil (Kaushambi): In the Ganga-Yamuna doab, the initiative has started again in the direction of searching for the extinct river (Saraswati). The team of National Geophysical Research Institute, Hyderabad (NGRI) has camped on Monday morning at Ichna village. Samples are being taken here since a week.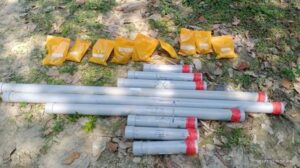 Photo courtesy: Jagran
The exercise of geologists is the cause of curiosity in the district. A camp was set up in the garden near the tube well located in Ichna village. Here samples were taken by sediment end coding and sediment core drilling. Two years ago, during the aerial survey of many villages including Sevtha Ichhana, Panara Gopalpur, Saraiya, Agiyouna, the possibility of finding the existence of the extinct river has arisen. In the team from Hyderabad, senior scientists Dr. Prabha Pandey, Dr. Imran Khan, B. Kiran Kumar and Satish Verma had collected samples of soil and other particles by drilling in Sevtha village before Ichhna. According to Dr. Prabha Pandey, the
samples will be tested in the lab located in Hyderabad.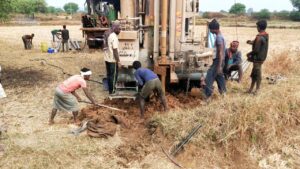 Photo courtesy: Yash Kurrey
Samples are being collected from wherever the possibility of the river was seen in the survey two years ago by the Halobean Transient Electromagnetic method. A sample will be collected every 10 meters up to 50 meters from the drilling. It will be ascertained in the lab that what is the actual age of the particles, have they gathered from somewhere or have they flown? What was the climate like in that period, how the downfall took place? Years ago, the Central Ground Water Board (CGWB) had drilled a 150-meter deep borehole and installed a system inside it to know the quality of the water, during the initial period.
With this, the quality of water and changes in it can be tested. Agianna will be a village. They also have a van with them. The instruments engaged in it have been connected to the computer.
Neerain is proud to republish this article for spreading awareness about situation of water, for our stakeholders. Credit whatsoever goes to the Author.
This article is published by: –
https://www.jagran.com/uttar-pradesh/allahabad-city-the-search-for-saraswati-started-once-again-in-kaushambi-22105467.html
We would like to spread this for the benefit of fellow Indians.
Author: Samvad Sutra
Publish On: Oct 12, 2021.