Lucknow: It will now be mandatory to install rainwater    harvesting system on all the government buildings of the state. Be it government buildings or private hospitals, engineering colleges will also set up rainwater harvesting plants to save drop by drop of water. Water Power Minister Swatantra Dev Singh gave such instructions at the office of Namami Gange and Rural Water Supply Department in Gomtinagar on Tuesday. He had come here to review the plans of the Ground Water Department.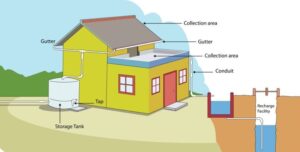 Photo courtesy: Pro Civil Engineer.com
The Minister of Jal Shakti stressed upon the officers of the department to strictly install rainwater harvesting system in all government buildings and to follow it compulsorily. It is worth mentioning that from Chief Minister Yogi Adityanath to Prime Minister Narendra Modi are strict about rainwater harvesting in Uttar Pradesh, while complete arrangements for rainwater harvesting have not been made even in the government buildings of Uttar Pradesh. In such a situation, Jal Shakti Department is working on it very seriously, so that water conservation can be done through rainwater harvesting.
Jal Shakti Minister Swatantra Dev Singh told the officials that he would also inspect government buildings during his visit to the districts. If they do not get rainwater harvesting plants on government buildings, they will also take action. In the meeting, he also ordered to honor the officers and employees who did better work. For this, instructions were also given to complete the process of selection of one junior engineer, three junior engineers from each district and one executive engineer from the division.
Neerain is proud to republish this article for spreading awareness about situation of water, for our stakeholders. Credit whatsoever goes to the Author.
This article is published by: –
https://www.etvbharat.com/hindi/uttar-pradesh/state/lucknow/rain-water-harvesting-system-is-now-mandatory-in-government-buildings/up20230103222218255255909
We would like to spread this for the benefit of fellow Indians.
Publish On: Jan 3, 2023.